Welcome to The Red Rocks Community College
at "bornhardt.dk"
The pictures of to day - From the 18th. to the 31st. of January 2002 - Click at the pictures for full size
Above: Four pictures from Red Rocks Community College - RRCC To the left: Our Teachers: Mira, Linda and Susan. To the right: Our new teacher Janice (Jan) We are 15-16 persons in the class at level 5. That is unusual many. Therefore the College had demanded to split our class in two separated classes. I think it was a professional acting of RRCC. Abowe to the left: The reading class looking at the movie. Abowe to the right: Immaculada (Spain), Min (Korea) and Jesus (Venezuela)
Bellow from left: Karina (Peru), Takako (Japan), Farnaz (Germany), Alla (Rusia) and Armad (Camaron)

Abowe to the left: The new student at the Red Rocks Community College sitting in the sunshine outside waiting for his second lesson.
He was there for 15 minutes without being cold. Isn't it marvelous? The next day everything was changed.

2002-01-26 Skating with the ESL Class at RRCC - I am hurt.


We were only nine persons who started 2:15 PM from the College. After a drive for 15 minutes we came to the skating hall. I thought we should skate out-doors but it was in-doors.
We paid $6,25 for two hours skating including renting the skating boots.

I went out on the ice a little scared for what was going to happen. In the beginning I wondered why I did not fall. It was the first time in 40 years that I skated.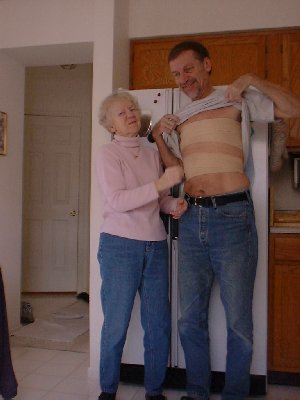 After a while it seems for me that I was doing well. I speeded up a little and then a little more, and suddenly I fell forwards so quickly that I did not reach to protect my self with my hands. My body touched the ice in a very high speed. I lost all the air in my lungs. I could not breathe and it was hurting. I stood still for a while until I could breathe again.
Then I went on skating but a little slower. After some time I speeded up again and I fell again in the same way. I do not know why. Now I was really hurt but still skated carefully for an hour or so.
Just before we would stop skating I fell again.

But this time I fell on my right side and hurt my knee, my elbow and my thigh just under my hip.
Buy the way I did well I think. I have lost some skin on my knee and elbow and I have a 6 cm wide and 1 cm high bump on my right thigh just under my hip. But the worst is that my chest hurt so badly that I have problems breathing.
I am not looking forward to the night. I do not know on which side I am able to sleep.
I think I will have a picture from our trip to the skate hall to scan in to my computer. If so I will send it for you. One of the other guys took pictures.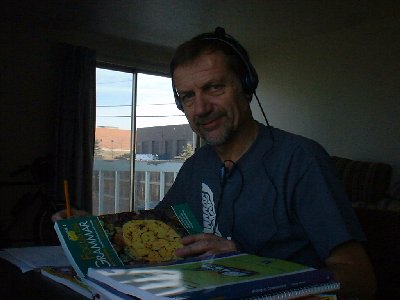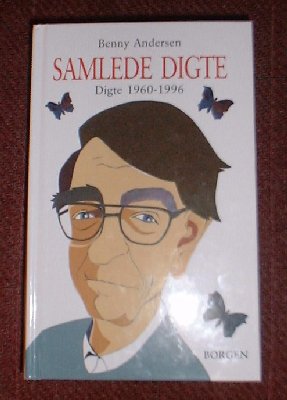 To the left: Homework has to be done with Evita in the ears
To the right The Collected Poems by the Danish poem benny Andersen.
Click at the book to open it or click here!


The first Global Conversation Hour of the semester: Abowe to the left you see Betsy Fanton (in the red jersey). The international students got the E-mail bellowe from her yesterday night: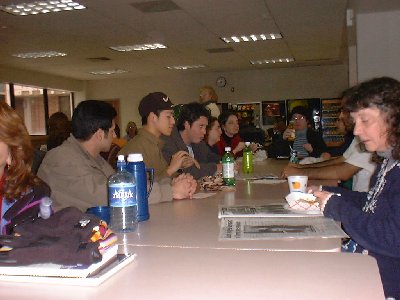 Dear International Students:
Tomorrow, Wednesday, January 30 will be the first Global Conversation Hour of the semester. Please join us for a casual lunch. Bring your own lunch, buy it in the cafeteria, or just watch others eat! Meet in the Cafeteria at any open table at 12:30pm. This is an opportunity to talk with other students at the college, brainstorm activities to do together, speak with the Coordinator of International Education, and just relax. Feel free to invite friends too!
I would like to plan an activity for Friday afternoon; bring your ideas about a Friday activity to Global Conversation Hour on Wednesday.
Some students are planning to go skiing with RRCC on Saturday, Feb. 2. If you'd like to join them, see Chief Mackey in Police Services, 303-914-6498.
See you tomorrow! Betsy Fanton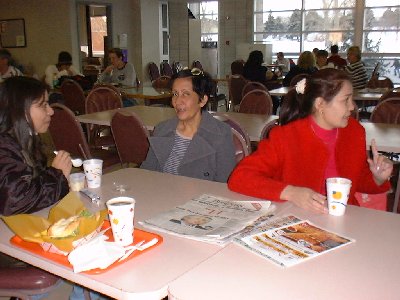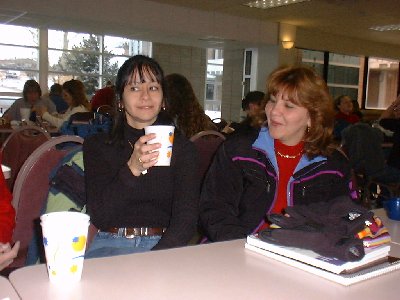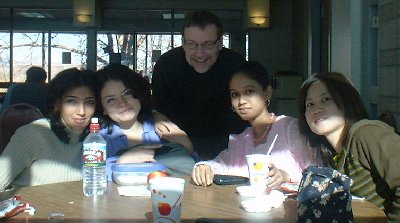 Brake-time for the ESL class at the last day in January 2002
Tomorrow we will have our first quiz and tests.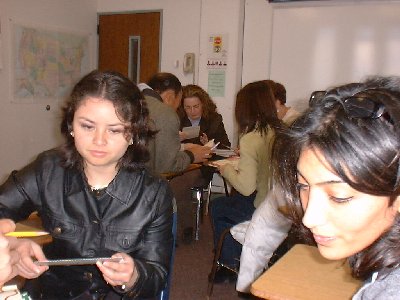 Mail to: Knud-Erik Bornhardt


Opdated 25. desember 2009

<! Copyright (c) 2000 Bornhardt.dk>